Coverage of Iraq's religious minorities wins ICFJ Anywhere Award
By H.J. Cummins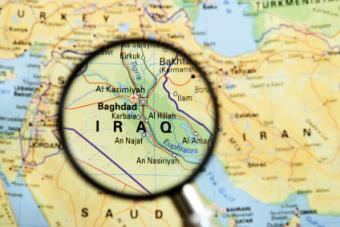 Anger among Iraq's religious minorities, denied equitable representation in the country's government, was the subject of an article that has won an ICFJ Anywhere Award for its two authors.
The piece focused on the repercussions of Iraq's reneging on a promise to the United Nations, giving religious minorities six instead of 12 seats on the country's provincial councils. In the article, leaders of many of the affected groups complained that such "political marginalization" has a hand in continued discrimination and violence against religious minorities, as well as the decision by some finally to emigrate.
The story – a project for the ICFJ online course International Coverage of Religion – was by Ahmed Hussein, investigations editor at Al-Sabah in Baghdad, and his partner, another Iraqi journalist who asked not to be named because of safety concerns. Their award-winning piece appeared on the Iraqi Streets blog, http://www.iraqistreets.com.
"I took this course because I wanted to know the Western press approach to religion coverage," Hussein explained, "and the most important thing it taught me is to preserve neutrality, impartiality and accuracy in delivering information."
Only ICFJ made this learning opportunity available and practical for him, Hussein said: "It is the only organization that provides what I was looking for at no charge."
The ICFJ Anywhere course graduated 50 journalists from majority-Muslim countries, Europe and the United States last July. In it, the journalists critically examined religion coverage around the world, as well as the role of religion in other arenas such as national politics, regional affairs and medical ethics. Other final projects covered power-sharing among religious minority groups in Iraq, slavery in Mauritania and Yemen, and the definition of martyrdom.
Two veteran journalists ran the course. David Briggs is a U.S. journalist who has written about religion for The Associated Press, and the Religion and Newhouse news services. Larbi Megari, a journalist for 15 years at newspapers such as El-Nebaa, El-Hadath, El-Bilad and El-Khabar, is now news coordinator for the Algerian Television.
Both award winners said they were drawn to write about the inequitable and volatile conditions created by marginalizing religious minorities in their country. "Migration to Europe and America is the first and last resort," Hussein said, "but this is what happened after Baghdad's Our Lady of Deliverance hostage crisis and the killing of Christians in Baghdad and several provinces."
Hussein saw a historical irony: "I'm interested in history, particularly Iraq's ancient history, and I had discovered the historical glory of Iraq's ancient peoples, what we call minorities now – Assyrian, Chaldean, Mandaean, Sabian," he said. "It indicates they deserve a right to representation now."
But both journalists are focused only on what's ahead for religious groups, watching the new federal government that was formed in Iraq in December.
Hussein said he intends to follow-up with any new developments.
"We will continue monitoring the minorities' situation," his co-author agreed.