Turkish journalists develop code of ethics during ICFJ workshop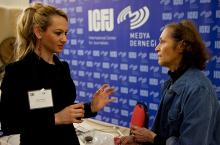 Trainer Sherry Ricchiardi engages participant Dilek Yılmaz of Bengü Türk TV. Copyright 2011 Frank S. Folwell.
The Istanbul-based Media Association (Medya Derneği) and the International Center for Journalists sponsored a media ethics workshop in Istanbul from January 25 to 27, 2011.
During the workshop, 25 Turkish journalists developed a code of media ethics that will be used in newsrooms throughout the country. In the coming months, the Media Association and ICFJ will maintain contact with participants to ensure implementation of the code in newsrooms.
The ethics code will meet an important need for Turkish journalists, says ICFJ's Turkey country director Baris Soyad. "Media ethics is the most neglected area in Turkish journalism," Baris says. "Although the media industry is flourishing rapidly it has a very poor ethical record."
Throughout the workshop, media trainers Sherry Ricchiardi and Alper Görmüş asked participants to consider the ethical challenges they face as journalists. They discussed ethics codes, ethical decision-making models, ethical philosophies and communication in the digital age. Participants were also encouraged to look beyond politics when covering stories.
The workshop was followed by a panel discussion on Wikileaks. Participants discussed whether Wikileaks is journalism and the responsibilities of journalists who come in contact with secret documents.
Participants were selected by instructors of two online media ethics courses offered by Media Association and ICFJ from August 6 to September 16, 2010 and October 1 to November 11, 2010. Selection was based on participants' performance in the courses.
To read coverage of the event in Turkey's Today's Zaman newspaper, click here.
Photos by Frank S. Folwell