Winners of ICFJ online course educate Hispanic community on personal finance
By Isabel Morales
Enrique Flor, a journalist with Miami's El Nuevo Herald, has taken what he learned in an online course on covering personal finance and become an expert in helping his Hispanic readers learn how to manage their money better. Flor was was among the 30 journalists who participated in course that was run by the International Center for Journalists (ICFJ) and sponsored by the McGraw-Hill Companies.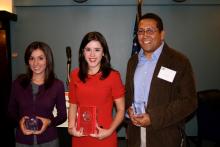 Ana Carolina González, Adriana Gómez, Enrique Flor
"I started to write about finance during the course's final project. I didn't know much about that – I'd always written about immigration and other things," said Flor.
After Flor published his first article in El Sentinel, the community started to call him to tell him about their problems and give him ideas for stories. "A man once called me to tell me he had been swindled, that he thought he'd bought a house, but at the end, the money he paid was for the lawn."
Flor said that course opened the door for him to write about topics that affect his community, which he said is "very vulnerable" to financial abuses.
During the six-week course, students discussed topics such as credit, loans, consumer fraud, mortgages and housing, retirement plans, and investments. They completed several assignments each week, read articles about the topic, and participated in discussions. At the end of the course, students completed their final project with the assistance of professors.
The best three articles received the MacGraw-Hill Personal Finance Award and cash prizes of $2,000, $1,000 and $500.
"From the onset, this program was created to help Hispanics make intelligent financial decisions," said Joyce Barnathan, ICFJ president and former executive editor of BusinessWeek. "The winners offered ideas that helped communities to maneuver intelligently in a time of economic hardship."
Flor won second place and $1,000 for his article "Free legal aid offered in face of foreclosures," published in El Sentinel. The article highlighted how Hispanics can find free legal aid when facing a foreclosure. "I won on all sides," he said. "I learned and made money."
"I recommend this course to all journalists. You get updated information on laws and other topics, something that's very important for a journalist. Besides, it was very valuable to share with colleagues from other states and identify what is going on in other cities and exchange ideas," he said.
Adriana Gomez, another winner, clinched first place with her article "When immigration Meets the American Dream," published in The Roanoke Times, where she discussed the new challenges facing immigrant communities when seeking mortgages during the recession.
Gomez, now at the El Paso Times, said this course is "an excellent tool for journalists who cover minorities, a segment of the population that doesn't know how the system operates."
"Our commitment as journalists is to inform people about topics that are difficult to understand, especially minorities who are affected by their lack of knowledge. The course helped me understand several topics and to write about some of the terms in an accessible way."
ICFJ has been training journalists on coverage of personal finance issues for several years with funding from McGraw-Hill. The Spanish-language course is taught by Xavier Serbia, syndicated columnist and founder of XavierSerbia.com. Serbia is a syndicated personal finance columnist and writes for several Hispanic outlets.
The English course was led by Chris Roush, founder and director of the Carolina Business News Initiative, a program that provides training for journalists and University of North Carolina–Chapel Hill students. He is the author of two books on journalism.