ICFJ offers online course on covering development for African journalists
Course Details
Application Deadline:

May 6, 2013

Date:

May 20, 2013

-

June 28, 2013

Published Under:
African journalists are invited to participate in a six-week online course: "Covering Development in Africa." The course will be held from May 20, 2013, to June 28, 2013. The deadline to apply is May 6, 2013.
Offered by the International Center for Journalists (ICFJ), the course will be led by two media consultants with extensive experience working in Africa. Christopher Conte has worked in the United States, Africa and Asia. He is a former Wall Street Journal reporter and editor who later spent three years as a Knight International Journalism Fellow based in Uganda. He currently is based in Washington, D.C.
Sputnik Kilambi, a former journalist with Radio France International, has worked in Rwanda, Kenya and Ghana as a Knight Fellow and in Sierra Leone for the United Nations. She currently is based in Nairobi, Kenya.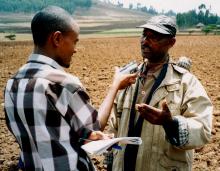 Among the topics to be covered during the course:
How to identify good development stories
Key Issues in reporting agriculture, mining and the environment
Human capital: Development journalism and education, health and social welfare
Using data to enrich development stories
Reporting on the role of government, international organizations and foreign aid
The course will be offered in English and French. It is open to computer-literate African journalists with at least five years of professional experience. Participants must be willing to spend time reading materials, researching assignments and interacting online with instructors and fellow participants.
To apply for the course, click here
For more information, please contact Christopher Conte at [email protected].